In Memory
Karen Finney (Zabel)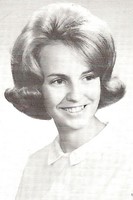 Funeral services for Karen Finney Zabel, 49, of Newark, are at 11 a.m.
Wednesday at Brucker & Kishler Funeral Home with Pastor Darryl Haynam
officiating. Burial will follow in Newark Memorial Gardens.

Mrs. Zabel, former employee of Newark Health Care Centre where she was the
scheduling coordinator, died Oct. 19, 1997, at her residence. She was born
Aug 8, 1948, in Newark, to Bonnie (Davis) Finney of Newark and the late
William C. Finney.

She is survived by her husband George C. Zabel, whom she married April 26,
1969; one son and daughter-in-law, Mark and Wendi Zabel of Newark; one
daughter and son-in-law, Kyra and David Fogle of Newark; one foster daughter
and son-in-law Twyla and Bill Blickley of Lake Jackson, Texas; two
grandchildren; five sisters and brothers-in-law, Michele Wells of Granville,
Molly and Bill Ewing, Nancy Loughman, and Paula and Randy Tittle, all of
Newark, and Ruth and Bruce Stockum of Alexandria; four brothers and
sisters-in-law, Mitchell and Pat Finney, Bill and Connie Finney, and Johnny
and Cindy Finney, all of Newark, and Stephen Finney of Westerville; 10
nephews; and six nieces.

Friends may call from 2 to 4 and 6 to 9 p.m. Tuesday at the funeral home,
985 N. 21st. St.

Memorials may be made to the American Heart Association.