In Memory
Peter Howard Shanaberg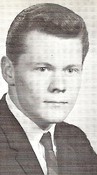 Graveside services for Peter Howard Shanaberg, 46, of 4365 Granview Road,
Granville, will be 10:30 a.m. Tuesday in Maple Grove Cemetery, Granville,
with Rev. G. Michael Gribble officiating.

Mr. Shanaberg died Saturday, Dec. 18, 1993 in the Miami Valley Hospital,
Dayton, from injuries sustained in an automobile accident. He was born May
24, 1947 in Warren, Ohio, the son of Frank J. and Audrey Rugg Shanaberg, of
Bradenton, Fla.

Mr. Shanaberg was a film and video consultant for SOS Productions, Columbus.
He attended Valley Forge Military Academy and was a 1966 graduate of Newark
High School, where he was a track and football letterman. After attending
the University of Missouri, he moved to New York and became a music business
manager. In 1979 he moved to Los Angeles to promote the film, "Animal
House." As founder and president of Selluloid, he went on to produce feature
films and videos and was a lecturer at the University of Southern California
film school. He moved to Granville in 1993.

Surviving in addition to his parents are his wife, Cathy Rose Shanaberg, of
Granville; a son, Jason Alan Shanaberg, of the home; a daughter, Jenny Rose
Shanaberg, of the home; a brother, Christopher Rugg Shanaberg, of Los
Angeles, Calif.; a sister, Patricia Sue Shanaberg, of Los Angeles, Calif.; a
sister-in-law, Gloria Shanaberg, of Granville; three nephews and one niece.
He was preceded in death by on brother, Thomas W. Shanaberg.

The McPeek Funeral Home is in charge of arrangements. There are no calling
hours.

The family requests memorial contributions be made to a favorite charity.