In Memory
Dian Marcia Ridenour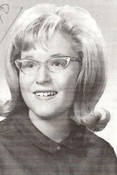 Services for Dian Marcia Ridenour, 36, Chicago, IL., will be at noon Tuesday in Graville chapel, Loveland, Ohio.
Miss Ridenour died Friday at home. She was born Dec. 18, 1947, in Newark to J. Burton and Janie (Jones) Ridenour, formerly of Saratoga Avenue, now of Titusville, Fla.
She was a learning disability speaker in Chicago since 1975; a national disability teacher for three years; a 1966 graduate of Newark High School; a 1974 graduate of the University of Kentucky, with a BA degree in social work and an MS from George Washington University of Chicago and a member of the First United Methodist Church in Newark.
Surviving besides her parents are two sisters; Mrs. Dennis (Patti) Dansby of Appleton, Wis. and Martina Louise Ridenour of Sumerland Keys, Fl.; one brother, Gary Ridenour of Summerland, Fla.; a grandmother, Mrs. W.D. Ridenour of Newark and two nieces.
A Chicago funeral home is in charge of arrangements.
-obituary from the Newark Advocate.