In Memory
Donald L. Paynter VIEW PROFILE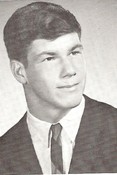 A funeral service for Donald L. Paynter, 52, of Newark, will be held at 11
a.m. Wednesday at St. John's Lutheran Church with Pastor Paul Hansen
officiating. Burial will follow in Lutheran Cemetery.

Mr. Paynter, a member of St. John's Lutheran Church where he was a lay
minister and former church council president, died Jan. 7, 2001, at his
residence. He was born Jan. 25, 1948, in Newark, to Junior and Nancy
(Abbott) Paynter.

Mr. Paynter was employed by Schwebel's Bakery. He served in the U. S. Army
and was a member of Via de Cristo, the Teamster's Union, and a former
Jaycees member.

He is survived by his wife, Pam (Kreager) Paynter; daughters and son-in-law,
Amy and Russ Bell of Knoxville, Tenn. and Tracey Paynter and friend, Rick of
Toledo; son and daughter-in-law, Doug and Tammie Paynter of Newark;
stepsons, Tyler and Amy Dutiel, and Travis Dutiel, all of Heath;
grandchildren, Ryan, Zackery and Nicolas; father and step-mother, Junior and
Betty Paynter; brothers and sisters-in-law, Mike and Debbie Paynter of
Newark, and Terry and Mary Lou Paynter of Florida; and nieces and nephews.

He was preceded in death by his mother.

Friends may call from 2 to 4 and 7 to 9 p.m. today at the Newark Chapel of
Henderson, Van Atta and Johnston Funeral Service, 59 N. Fifth St.

Memorial contributions may be made to Via de Cristo, Attn. Jim Caldwell, 73
Nadine Place, Westerville, Ohio 43081.

Click here to see Donald L.'s last Profile entry.