In Memory
William B Morris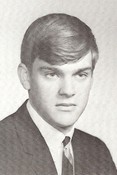 May 3, 1948-July 5, 2001
Private services for William B. Morris, 53, of Newark, will be held at a later date.
Mr. Morris, a 1966 graduate of Newark High School died July 5, 2001, at his residence.
He was born May 3, 1948, in Uhrichville, to the late Russell B and Helen (Zajanc) Morris.
Mr. Morris was a graduate of Ohio State University and received his master's degree from the University of Louisville.
He is survived by his brother, Michael J. Morris of Newark; sisters and brother-in-law, Sandra L and Roger Markle of Newark, and Debra G. Morris of Columbus and niece, Megan Elisabeth Morris of Columbus.
The McPeek Funeral Home in Granville is in charge of the arrangements.
Memorial contributions may be made to the American Cancer Society, 151 Lake St. Lancaster, Ohio 43130-2589
-obituary from the Newark Advocate