In Memory
Sandra Craig (Jackson)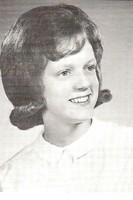 Services for Sandra Sue Jackson, 40, of 775 Walker St. will be at 2 p.m. Tuesday at the Church of God of Licking County with the Rev. Anthony Barlette officiating. Burial will be in Cedar Hill Cemetery.
Mrs. Jackson died Friday afternoon at Licking Memorial Hospital.
She was born April 15, 1948 in Newark to Ralph A. and Dorothy (Linn) Craig.
She was a librarian at McGuffey School, a former employee of State Farm Insurance Companies, a member of the Church of God of Licking County and a graduate of Newark High School.
She is survived by her parents; her husband, C. Keith Jackson; a son, Craig Keith Jackson of the home; two daughters, Amy Lynn Jackson and Jodi Nicole Jackson, both of the home and two sisters, Mrs. William (Diane) Nickols and Mrs. Howard (Paulette) Workman, both of Newark.
Friends may call from 2 to 4 and 7 to 9 p.m. Monday at Henderson Van Atta and Johnston Funeral Home.
-obituary from the Newark Advocate