In Memory
George P. Bobot, Jr.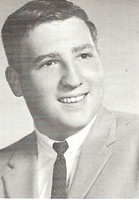 (29 January 1948 - 26 November,1989)
Services for George "Butch" P. Bobot, Jr., 41, S. Second St., will be at 10:30 a.m. Wednesday in the chapel of Criss Brothers Funeral Home with the Rev. John Crane officiating. Burial will be in Cedar Hill Cemetery.
Mr. Bobot died Sunday evening at home. He was born Jan.29, 1948, in Licking County to George Bobot Sr. of Newark and the late Beverly (Ridenour) Bobot.
He was a lifetime area resident and a self-employed truck driver. He attended the Second Baptist Church, was a U. S. Air Force Vietnam veteran and a member of the Druids Lodge 41.
Surviving in addition to his father are a daughter, Mrs. Roger (Jennifer) Shamblin of Columbus, and a granddaughter.
Friends may call from 2 to 4 and 7 to 9.p.m. at the funeral home.
obituary from The Newark Advocate, 27 November, 1989