In Memory
Michael Wiseman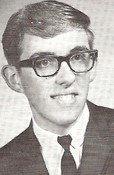 A funeral service for Michael E. Wiseman, 59, of Philadelphia, formerly from Newark, will be at 1 p.m. Thursday, Oct 25, at the Newark Chapel of Henderson-Van Atta Funeral and Cremation Service, with Pastor Tome Myers officiating. Burial will be in Newark Memorial Gardens.
Mr. Wiseman died Oct. 18, 2007, at his residence. He was born March 30, 1948, in Newark, to the late William Elmer Wiseman and Maxine (Black) Wiseman.
Mr. Wiseman worked for the state of Pennsylvania in the welfare department for 25 years.
He is survived by his mother, Maxine V. (Black) Wiseman, of Newark; two brothers, William Lee (Sue) Wiseman, of Newark, and Jeffrey Wayne (Judy) Wiseman, Louisville, Ky.; a sister, Karen Sue Wiseman, of Newark; aunt, Barbara Connor, of Newark; a niece, Michelle Ruple; a great-niece, Whitney Ruple, of Newark; a great-nephew Chase Ruple, of Newark; special friends Richard Black, Wayne Franks and Margie, of Philadelphia; and a best buddy, Max, the cat.
He was preceded in death by his father, William E. Wiseman; and great-nephew Zachery Ruple.
Friends may call from 5 to 8 p.m. Wednesday, Oct 24, 2007 at the funeral home, 59 N. Fifth St., Newark.
Memorial contributions may be made to Parkinson Disease Foundation, 710 W. 168th St., New York, NY 10032
Our condolences go out to Mike's friends and family.