In Memory
Melvin Ree Jr.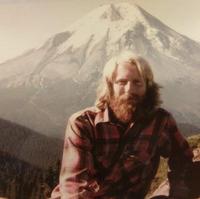 A funeral service celebrating the life of Melvin Clarence Ree, Jr., age 69, of St. Louisville, will be held at 1:00pm on Monday, July 23, at Brucker & Kishler Funeral Home. Friends may call from 11am-1pm prior to the service at the funeral home, 985 N 21st Street in Newark.

Melvin was born August 4, 1948 in Newark, Ohio to the late Melvin Clarence Ree, Sr. and Wilma (Parker) Ree. Melvin passed away on July 19, 2018 at his home with his wife and son by his side.

Melvin graduated from Newark High School in 1966 and The Ohio State University in 1970 majoring in Economic Geography with a minor in Business. Early in his work life, he was employed by Battelle Memorial Institute, a think tank located in Columbus. Afterward, he worked in many different capacities in the construction industry throughout his career - from laboring in the field to working in the office. He sandblasted high rise buildings in Portland, Oregon in the early 80s, removed axels from mobile homes, was a skilled painter, worked for Ree and Brezina Construction Company, and ultimately retired in 2016 from his final position of Payroll/Accounts Receivable Specialist that he held at Robertson Construction for 18 years.

First and foremost, Melvin was a family man - an amazing and loving husband and father. He was always true to others and himself, and was non judgmental or materialistic. He lived his life in moderation and was always dependable. He was quiet, calm, private, honest and courageous. Although extremely talented at everything he tried (like cooking his amazing meals), he was never one to show off. A lifelong Browns and Buckeyes fan, for years he would give a treat to the family dogs whenever Cleveland scored a touchdown.

Mel was a truly one of a kind original person - an incredibly kind and peaceful soul. He lived in a houseboat on the Columbia River in Oregon in the 70s, and upon moving back to Ohio in the 80s, lived for years out in the woods in a one room cabin on the family property - coming to town roughly once a week for supplies or to visit family and friends and go to the bar.

He loved being outdoors and truly enjoyed hiking his farm and visiting his pond every morning. He was one with nature and could even get birds to feed from his hand. Both animals and people seemed to gravitate toward him. He loved gardening, 60s music, going to concerts, traveling, riding roller coasters, playing his kalimba, being with his pets, and watching the birds. Most of all, though, he loved spending time with his devoted wife, Sheila, and son, Kristopher.

He is survived by his wife of 32 years, Sheila (Glover) Ree; son Kristopher Russell Ree; sister and brother-in-law Kristen and Granger McKinney; brother and sister-in-law Robert and Deborah Ree; sister and brother-in-law Lise and David Benson; sister-in-law and brother-in-law Sharon and David Arnold; many cousins, nieces and nephews both here and in Norway; and cat Guinness Parker Ree.

Memorial contributions may be made to the Foundation for Hospice of Central Ohio.
Published in the Advocate on July 22, 2018