In Memory
Peggy Bourne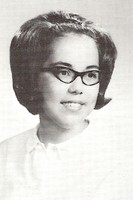 May 25,1948-May 10, 1997
Funeral services for Peggy Lee Bourne, 48, of Newark are at 1 p.m. Wednesday at the Newark Chapel of Henderson, Van Atta & Johnston Funeral Service with Pastor Paul Hanson officiating. Burial will follow in Cedar Hill Cemetery.
Miss Bourne, a 1966 graduate of Newark High School and who was in charge of the computer room at Communicolor, died on May 10, 1997, at her home. She was born on May 25, 1948, in Newark to Kenneth F. Bourne of Newark and the late Freda (Watson) Bourne.
In addition to her father, she is survived by a brother, Kelly E. Bourne of Columbus; sister and brother-in-law, Patricia and Dennis Badgaron of Groveport; two nephews and a niece.
Friends may call from 7 to 9 p.m. Tuesday at the funeral home, 59 N. Fifth St., Newark.
-obituary taken from the Newark Advocate.