In Memory
Gary Martin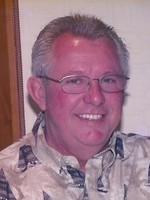 A funeral service for Gary Lee Martin, 67, of Florida, formerly of Newark, will be held at 10 a.m. Saturday at Southgate Church of Christ, 1075 South 30th St. Heath, with Pastor David Myers officiating. Interment will follow at Wilson Cemetery, where military honors will be conducted by the Licking County Veterans Alliance. The family will receive friends from 5 to 7 p.m. Friday at Brucker and Kishler Funeral Home, 985 North 21st Street, Newark.
Gary retired from Frito Lay. He served in the U.S. Army with a tour of duty in the Vietnam. Gary loved to travel and loved spending time at the beach.
Gary passed away September 30, 2015, at his residence in Florida. He was born October 13, 1947, in Fairmont, WV, to the late William and Jessie Martin.
Gary is survived by his companion, Sharon Thompson of FL; daughter, Cindy Martin of Newark; sister, Donna Martin of Newark; brother-in law and sister-in-law, Harold and Evelyn Hatfield and family; nieces and nephew, and several close friends.
Special thanks to the Tidewell Hospice caregivers for their excellent care.
In addition to his parents, he was preceded in death by his wife, Betty (Richardson) Martin; brother, Bill Martin and sister, Midge Hollon.
In lieu of flowers, contributions may be made to ALS, or Hospice of your choice.
To sign an online guest book, please visit www.brucker-kishlerfuneralhome.com