In Memory
James Landis VIEW PROFILE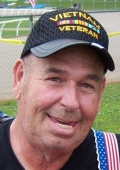 HEATH, OHIO
A funeral service for James R. Landis, age 65, of Heath, will be held at 10:30 a.m. on Tuesday, July 17, at Christ Evangelical Lutheran Church, 732 Hebron Road, Heath, with the Rev. Kristin Santiago officiating. Burial will take place in Cedar Hill Cemetery where military honors will be observed by the Licking County Veterans Alliance.

Mr. Landis passed away on Thursday, July 12, 2012 at Licking Memorial Hospital. He was born April 9, 1947 in Newark, Ohio to the late Odis Earl and Donna Ruth (Bush) Landis.

Mr. Landis retired from the Licking County Sheriff's Department where he had been a Deputy Sheriff. During his career he had also been a Heath Volunteer Fireman and Heath Police Auxiliary Policeman and had been a police officer with the Village of Granville. He had also been a Bailiff with the Licking County Domestic Court, a park ranger, and laborer on the Newark Street Department. Mr. Landis was a scuba diver and helped organize the Heath Search and Rescue Dive Team.

A veteran of the United States Army, he is a member of the American Legion, VFW, the Vietnam Veterans of America, Eagles, and the Licking County Veterans Alliance. He is also a member of Christ Ev. Lutheran Church, the Boy Scouts of America and volunteered with the Girl Scouts. He was a former member of the Moose.

Mr. Landis is a member of several professional organizations including the FOP and the Buckeye State Sheriff's Association, winning several awards including FOP Member of the Year, Service to Mankind Award and was Police Officer of the Year in 1993.

A 32nd Degree Mason, he is also a member of the Scottish Rite Valley of Columbus and the Heath Lodge #771 F&AM.

Mr. Landis enjoyed fishing, mushroom hunting, old cars, and is a member of several car clubs. He loved spending time with his family.

He is survived by his wife of 40 years, Faye E. (Briggs) Landis, whom he married November 24, 1971; daughters, Christina E. Landis of Heath, Darcie S. (Tim) Ransom and Shala R. (J.K.) Young, all of Newark; and five grandchildren, Clayton, Dalton, Kaitlyn, Abigail and Kaydance.

In addition to his parents, he was preceded in death by a brother, Danny Landis.

Friends may call from 2-6 p.m. on Sunday, July 15, and from 4-7 p.m. on Monday, July 16, at the Heath Chapel of Henderson-Van Atta-Stickle Funeral & Cremation Service where the Heath Masonic Lodge #771 will have a service Monday evening at 5:00 p.m. and the Vietnam Veterans of America Chapter 55 will have a Black Rose Ceremony at 6:00 p.m.

Memorial contributions may be made to Christ Ev. Lutheran Church or Hospice of Central Ohio.
Click here to see James' last Profile entry.