In Memory
George Lawrence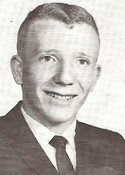 Funeral services for George H. Lawrence, 59, of Newark, will be at 2 p.m. Monday at Northside Church of Christ, Newark; Interment will be afterward at Fairmont Cemetery, with the Rev. Bruce Hissong officiating.
George passed away Thursday, May 17, 2007, at Licking Memorial Hospital.
He was born July 1, 1947, in Newark, to the late Donald and Nina (Brown) Lawrence. He was employed by the Newark Air Force Base, Miller Co. of Utica and Longaberger. A member of the NHS class of 1966, he also held degrees from COTC. He was a member of Northside Church of Christ and the Licking Valley Lions Club.
Mr. Lawrence was preceded in death by his parents; and his sister, JoAnn Bishop.
He is survived by his wife, MaFloreza Andrino; his sons, Christopher (Tiffany) Lawrence and Donald (Jennifer) Lawrence; stepdaughter, Leah Mea; grandchildren, Tyler, Kylie, Leah, Wyatt and Lorelei; and his sister, Lay Wolfe.
Friends may call from 7 to 9 p.m. Saturday and from 2to 4 p.m. and 6 to 8 p.m. Sunday at Criss-Schoedinger Funeral Home, Newark, and one hour before the service at the church.
Our condolences go out to his family and friends.