In Memory
Keith Hinger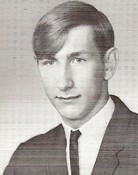 NEWARK: A funeral service for Keith F. Hinger, 63, of Heath, will be held on Friday, December 31, 2010 at 2:30 p.m. in the Newark Chapel of Vensil-Orr & Chute Funeral Home with Tom Henry officiating. Burial will be in Newark Memorial Gardens.

Mr. Hinger died Tuesday, December 28, 2010 at The Ohio State University Medical Center. He was born January 22, 1947 in Newark to the late Ralph Joseph and Mary Louise (Imhoff) Hinger.

Mr. Hinger retired from American Electric Power in February of 2010 with 37 years of service. He served in the U.S. Air Force during the Vietnam Era. He was a 1966 graduate of Newark High School.

He was a member of the NRA. He enjoyed being outdoors and especially hunting and fishing. He was a former member of the Licking County Fly Fishers Association.

He is survived by his wife of 44 years, Patricia L. (Miller) Hinger, whom he married October 28, 1966; brothers, Roger Hinger, Walter Hinger both of Newark; nieces and nephews, Jeff (Becky) Hinger of Newark, Jennifer Hinger of Gambier, Dawn Gibson of Newark, Kim Campbell of Powell, Judy (Jim) Stoops of Georgia, Charles (Mary) Campbell of Jacksonville, NC, Tom (Rose) Miller of Buckeye Lake; several great nieces & great nephews; close family friends, Denny, Christy, Tiffany & Alicia Acord of Newark.

In addition to his parents; he was preceded in death by his son, Brian Hinger; and a brother, Duncan Hinger; sisters-in-law, Mary Hinger, and Julia Hinger.

Calling hours will be observed Friday, December 31, 2010 from 1 p.m. to 2:30 p.m. at the funeral home, 1850 West Main Street.

The family requests memorial contributions to the Arthur G. James Cancer Hospital and Richard J. Solove Research Institute. Envelopes will be available at the funeral home.