In Memory
Russ Foit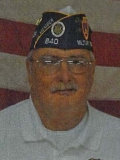 Russell F. Foit

NEWARK: A funeral service for Russell F. Foit, age 66, of Newark, will be held at 10:00 a.m. on Tuesday, December 4, at the Newark Chapel of Henderson-Van Atta-Stickle Funeral & Cremation Service with Pastor Steve Robinson officiating. Military honors will be observed by the Licking County Veterans Alliance.

Russell passed away on Friday, November 30, 2012 at Licking Memorial Hospital. He was born October 30, 1946 in Newark to the late John and Chloe (Braden) Foit.

Mr. Foit graduated from Newark High School and entered the United States Army, where he served as a medic in Vietnam. He served from April 1964-June 1976. He was the co-founder of the Military Order of the Purple Heart, Glenn Cunningham Chapter 840 and also served as the Commander, Judge Advocate, Jr. Vice and Service Officer for Newark and Licking County. Mr. Foit has also held several positions in the Veterans of Foreign Wars Post 1060 which included Commander, Sr./Jr. Vice and Youth Activities Director. Russ organized drives which helped to raise funds for troops in active service and disabled veterans. He was also a member of the AMVETS, American Legion Post #85 and FOE #387.

He is survived by his wife, Rebecca (Carpenter) whom he married July 4, 1994; five children, Lavonda Elliott, Heidi Chism, Edie Carpenter, Edgar Chism and Joseph Humphrey, Jr. all of Newark; 28 grandchildren; 22 great-grandchildren.

Friends may call from 4-7 p.m. on Monday, December 3, at the funeral home, 59 North Fifth Street, Newark.