In Memory
Paul Ecleberry VIEW PROFILE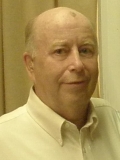 A funeral service for Paul Douglas Ecleberry, 65, of Newark will be held at 11 AM on Thursday, August 23, 2012 at Brucker-Kishler Funeral Home with Pastor Chuck Horsley and Pastor Jeff Camp officiating. Burial will follow at Newark Memorial Gardens.

Mr. Ecleberry passed away on August 19, 2012 at Riverside Methodist Hospital. He was born on September 25, 1946 to the late Carl F. and Betty H. (Lescody) Ecleberry in Newark, OH.

He is survived by his special friend and companion, Bonnie Gieseler; brothers, Tom (Bobbe) Ecleberry and Randy (Carolyn) Ecleberry; nephew, Greg (Amy) Ecleberry; niece, Laurie (Kevin) Wimer; great nephews, Andrew and Brandon; special family, Kelsey (Nicole) Gieseler, Jacqueline and Jackson Gieseler; numerous aunts, uncles and cousins.

He is preceded in death by his parents, Carl F. and Betty H. Ecleberry.

Paul was a devout Christian and enjoyed his family and friends. He was a current member of the Crossroads Christian Church and formerly a member of Central Christian Church. He was also a member of the Newark Eagles and Licking County Relay for Life. He was involved with the Licking County Humane Society and the Jack Gieseler Memorial.

The family will receive friends on Wednesday, August 22, 2012 from 6-8 PM at Brucker-Kishler Funeral Home, 985 N. 21st St., Newark, OH.

Memorial contributions can be made to the Crossroads Christian Church, 11784 Marne Rd., Newark, OH.


Click here to see Paul's last Profile entry.