In Memory
Kathleen Daniels (Coffey)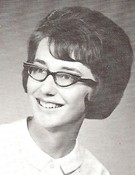 A funeral service for Kathleen A. Coffey, age 60, of Newark, will be held at 11:00 a,m, on Saturday, January 31, 2009, at the Newark Chapel of Henderson-Van Atta Funeral & Cremation Service with Rev. William J. Rauch officiating. Burial will follow in Newark Memorial Gardens.

Mrs. Coffey died January 29, 2009 at Licking Memorial Hospital. She was born October 10, 1948 in Oshkosh, Wisconsin to the late Arvin L. and Betty J. (Celichowski) Daniels.

Mrs. Coffey retired from Meijer after 25 years of service. She was also a member of St. Paul's Evangelical Lutheran Church.

She is survived by her sons, Christopher Coffey (Carrie Hottinger) of Newark and Robert Coffey (Stacy Ott) of Newark; grandchildren, Robert Vaughn and Cara K. Coffey both of Newark; sister, Marybeth (William) Lacy of Newark; brother, John W. Daniels of California; and 1 niece and 4 nephews.

In addition to her parents she was preceded in death by her husband, Robert Coffey in 1997.