In Memory
Gloria Sullivan (Boyer)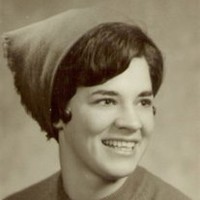 A funeral service, to celebrate the life of Gloria Jean Boyer, 64, of Newark, will be held on Friday, March 8, 2013 at 10:30 AM at Criss-Schoedinger Funeral Home, with Pastor Chris Frye officiating. Burial will follow at Newark Memorial Gardens.
Gloria was born on October 11, 1948 in Newark to the late Herbert Richard and Donna Jean (Baughman) Sullivan. She passed away at Arlington Care Center on March 4, 2013.
Gloria graduated from Newark High School and attended Harvard University in Cambridge, MA. She was a member of the Neal Avenue United Methodist Church. She was a consultant for many years with Avon and Tupperware. She enjoyed collecting thimbles and spoons. She was an excellent cook and was especially known for her meatloaf and mashed potatoes. She also enjoyed sewing, traveling, spending time with her family and doting on her grandchildren as well.
Survivors include her husband of 40 years, Joseph W. Boyer, Jr. whom she married on January 20, 1973; sons, Aaron C. (Mindie) Boyer, Michael (Sara Davis) Boyer and Jonathon (Annette) Boyer; grandchildren, Brianna, Logan, Grayson, Austin, Alysa and Addisson; brothers and sisters, James (Debbie) Sullivan, Connie (Mike) Pribonic, Bonnie (John) Walker, John Sullivan and Jerry Sullivan; and numerous nieces, nephews, cousins and extended family.
In addition to her parents, she is preceded in death by one grandson, Nathaniel Addisson Boyer; and brother, Mike Sullivan.
Memorial contributions may be made in memory of Gloria to Susan G. Komen for the Cure®, 929 Eastwind Drive, Suite 211, Westerville, Ohio 43081 or American Cancer Society, 5555 Frantz Rd Dublin, OH 43017.
Friends may call at the funeral home, 179 Granville Street, Newark on Thursday from 5:00 to 8:00 PM.