In Memory
James "Phil" Allen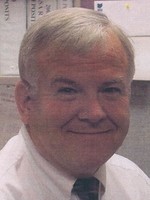 The reunion committee sadly shares the news that one of our most dedicated and tireless supporters for the Class of 1966 reunions has passed away.
Dr. James Philip "Phil" Allen

NEWARK: A funeral Service for Dr. James Philip "Phil" Allen, age 65, of Newark, will be held on Wednesday, February 5, 2014 at 10:00 am at Criss-Schoedinger Funeral Home. Burial will take place at Greenlawn Cemetery in Columbus.

Phil passed away on January, 30 2014 at the age of 65. He was born in Zanesville, Ohio on August 10, 1948 to his beloved surviving parents Doris (Finley) and James "Jimmy" Allen.

He was raised in Newark and graduated from Newark Senior High School in 1966. He went on to earn a Bachelor of Arts in Health and Physical Education from Muskingum College in 1970, a Masters of Education in Elementary School Administration at Xavier University in 1973 and a Doctorate in Educational Administration from Ohio University in 1984. Phil worked tirelessly within the education field throughout his life. He worked directly with the schools as a teacher, principal and superintendent. Later, he moved to The Ohio Department of Education, Buckeye Association of School Administrators and Mount Vernon Nazarene University.

Phil was a lifelong member of the First United Methodist Church in Newark. He was a member of the First United Methodist Men, District Guide for Ministry, District Superintendent's Advisory Committee, New-Ark Emmaus Community, Gideons International and Promise Keepers. Phil was a member of Phi Delta Kappa, Ohio Retired Teachers Association and Licking County Retired Teachers Association. Phil was a Past Master of the Malta Masonic Lodge, member of the Laura Chapter of the Eastern Star, Licking County Scottish Rite, Ancient Accepted Scottish Rite, Licking County Shrine Club, Aladdin Temple Shrine Club and Sons of the American Revolution. Phil's favorite past-time was golf , especially with his church friends and his daughters. He enjoyed playing cards with his wife and their dear friends, boating at Buckeye Lake and cheering for the Newark Wildcats and Ohio State Buckeyes at various sporting events.

Phil was preceded in death by his sister Katherine Gerber.

Phil is survived by his loving wife, Pamela Allen of 37 years; he is lovingly remembered by his daughter, Sarah Hageman, her husband Derek and their children Ian and Sophia of Granville, Ohio; his daughter, Natalee Johnson, her husband Rick and their son Caleb of Darlington, South Carolina.

Memorial Contributions may be made to the Alzheimer's Association of Central Ohio.

Calling hours will be held Tuesday, February 4, 2014 from 5:00- 7:00 pm at the funeral home, 179 Granville Street, Newark, where a Masonic service will be held at 7:00 PM.